When was the last time you received the personal attention you deserve and talked with someone about your health?

No one diet works for everyone


I will guide you to find the food and lifestyle choices that best support you. I will also help you to make gradual, lifelong changes that enable you to reach your current and future health goals.

Could one conversation change your life?


Schedule an initial consultation with me today!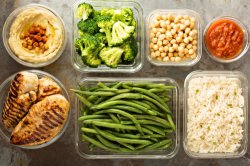 You've hit the midweek slump and decided to skip making dinner and instead reach for your phone for nearby takeout. Or maybe you've just been too rushed in the morning to make a healthy breakfast, so you grab a pastry with your coffee at the café near your office. Do either of these sound like a routine you've succumbed to?
---
Do you find yourself getting stressed during the holiday season? This time of year is filled with parties, shopping, spending, entertaining, and a list of other demands that can easily lead to overwhelm.