When was the last time you received the personal attention you deserve and talked with someone about your health?

No one diet works for everyone


I will guide you to find the food and lifestyle choices that best support you. I will also help you to make gradual, lifelong changes that enable you to reach your current and future health goals.

Could one conversation change your life?


Schedule an initial consultation with me today!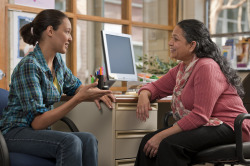 Have you ever thought about why rates of cancer, heart disease, and other illnesses continue to rise, despite increasing healthcare costs? We tend to normalize illness based on how widespread it is in the United States, but illness is not the normal state of our bodies.
---
In the world of modern nutrition, almost everyone is on one diet or another, and people dwell on fats, proteins, and lists of "good" and "bad" foods. Low fat, low carb, Paleo, vegan, Atkins….